We recently ran our first Peterborough United competition over on our socials, gaining a lot of interest from lifelong fans. However, one entry caught our attention immediately, which was a bathroom decorated with POSH items and memorabilia. We got in contact with the owners of this unique bathroom, Laura and Tim, to gift them a POSH sign to go up in the most treasured room in their house. They were delighted at their new bathroom accessory and more than happy to share a little insight into their love for Peterborough United.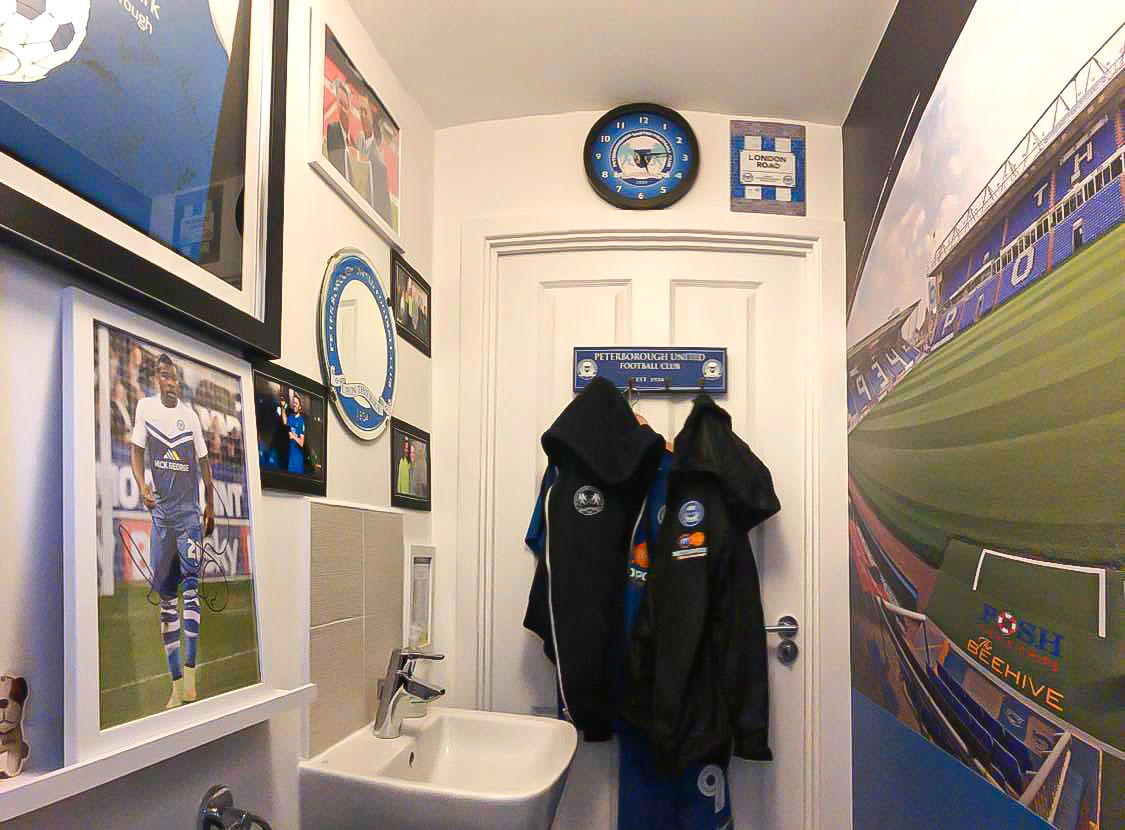 How long have you/family supported Peterborough United?
Tim has supported Peterborough United since he was about 6, he's now 32, so now over 25 years! The rest of us, however, are newer fans only supporting since Tim and I, got together nearly 3-years ago. I know for one Tim cannot wait to get back to London Road and take Bonnie, our newborn, to her first game supporting the mighty POSH!
Who's your favourite player?
Our favourite current player is Sammie Szmodics, but our all-time favourite has got to be Lee Tomlin and George Boyd! We were lucky enough to meet George Boyd this year when I surprised Tim to a birthday meal and meet and greet with George. Amazing man!
Why did you decide to dedicate a room to POSH?
It's a huge part of Tim's life, supporting Peterborough at London Road, on the road to away games nearly every weekend, and sharing the love of Posh together, it was only right we dedicated a room to them when we bought our house. We are only sad we didn't use a bigger room, as we've gathered quite a few memorabilia, and we keep adding to it as soon as anything new comes out!
How long has it taken to get your bathroom all kitted out?
When we first moved in it was one of the first things we organised. As I work at a printing company we knew we wanted to print the ground on the wall. I spoke to Joe Dent and he organised a high res image for us to use on the wall. One of the ways in which we have added to our collection is via eBay, as Peterborough United often sell signed items on eBay to raise money for lots of good causes. The rest has been collected over the last couple of years!
Have you got any other plans to kit out any other rooms in the house?
As the toilet is getting rather full of items, I am sure we would consider taking over other rooms. Next door to the toilet is the dog's bedroom (yes the dogs have their own room too!) and we've thought about taking over the walls in there to start a new memorabilia wall!
As Tim has also done the London to Amsterdam bike ride for Prostate Cancer UK for 3 years running with the football league, representing POSH, he has a few medals and jerseys he would like to put on display too.
Stay tuned for more Peterborough United competitions coming soon…